M1828 & M1828/36 Naval pistols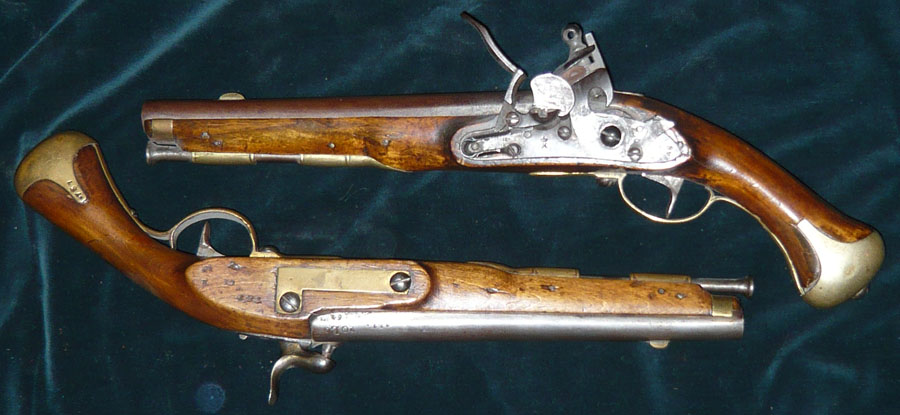 Here is another of the really scarce Norwegian flintlock pistols made by Kongsberg, the navy's M1828 and the percussion version M1828/36. If you look very carefully at the picture, something should strike you as very odd. Ok, try once more. The lock of the flintlock pistol is on the wrong side.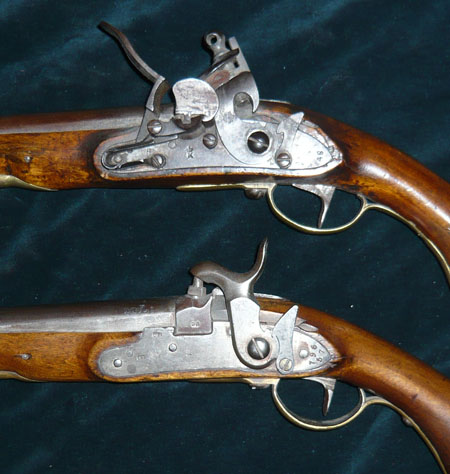 The pistol on the bottom of the first picture is a right hand pistol. They came in pairs, one for the left hand when entering the enemy ship, then drop that one after is was used and use the right hand one.
Firing a right-hand pistol with your left hand at night might blind you as the flame from the touch-hole would pass before your eyes. On the M1828 this flame will always be turned turn away from you.
The picture to the left shows the flintlock and the naval percussion conversion. It is completely different from the army's pistols. But the Navy was different. It was not even under the Defense ministry, but under the Post ministry.
The Norwegian navy usually had their own designs and the M1828 pistol may possibly be the first All-Norwegian designed military fire-arm in production at Kongsberg Våpenfabrikk.
The left-hand flintlock pistol was the very first firearm in my collection and even after 50 years I have not been able to find a right hand version. Most of these were sold to the US, so if anybody…